2022: Image Among Us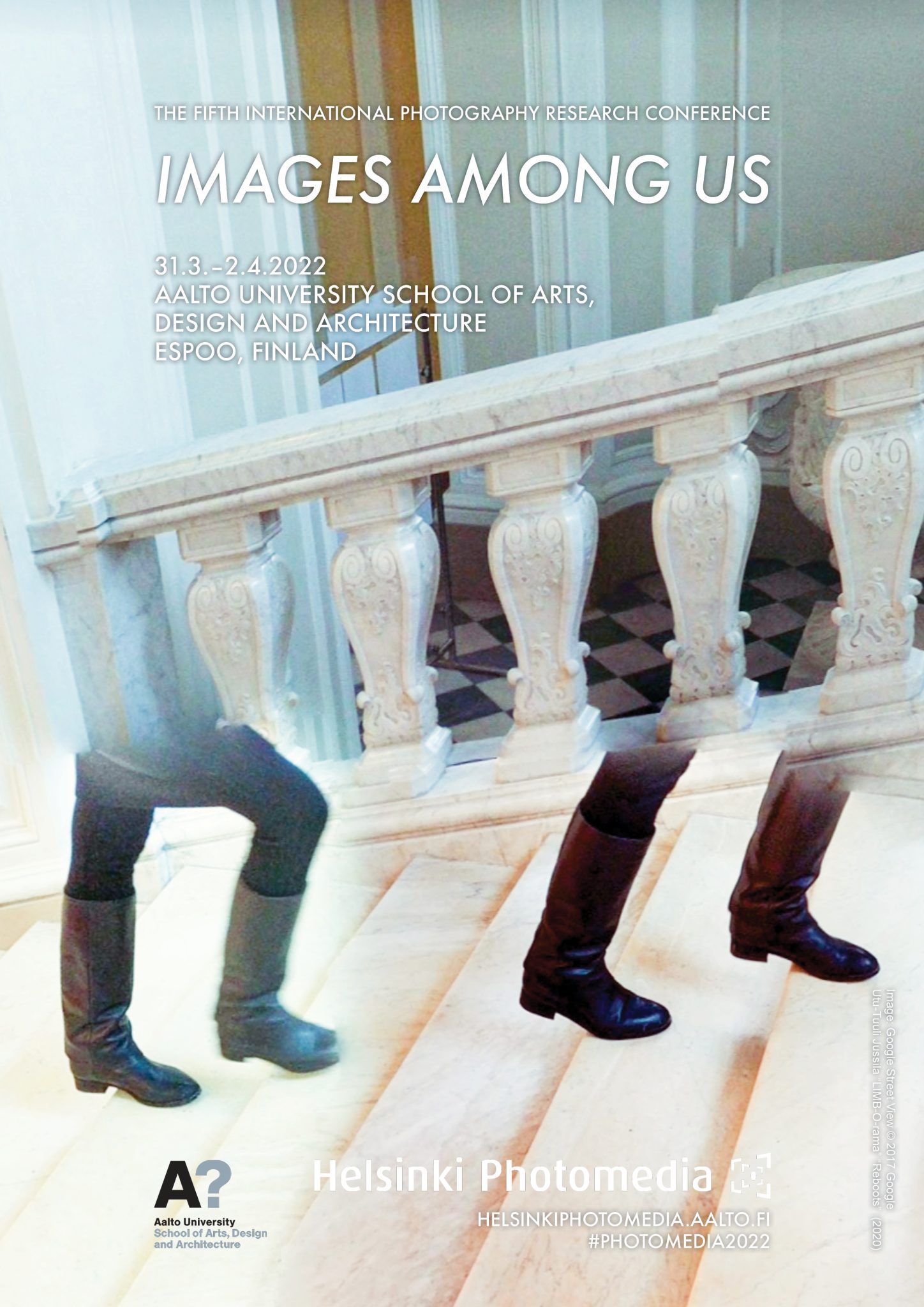 Aalto University
March 31, 2022 – April 2, 2022
"Those who write and make images will have to become envisioners."
– Vilém Flusser
The theme "Images Among Us" refers to the roles of photographic images in a world that is vibrant, transitory and vulnerable. The contours and borders of media rearrange themselves in virtual and material environments and in various platforms and social spaces. The flicker of their dividing lines becomes intermittently vague and distinct. In this dense historical assemblage, the photographic image itself has become disintegrated and embedded in different media.
Evidently, the present condition is difficult to access through our customary photographic categories and thinking. Photographic images are much more than familiar mediators between the world and ourselves. They have become simultaneously comforting and threatening. Photographic operations have become more and more elusive, with photography becoming less and less reducible to its myriad uses and capacities. However, enduring ontological questions on the essence, materiality and origins of photography have become more significant than ever. For example, photographs still possess traces of the evidential currency that has defined much of photography's history.
Helsinki Photomedia 2022 invites alternative formulations, critical observations, artistic reflections and presentations of photography projects that react to the present photographic condition in various ways, seeking to instigate productive dialogues.
We invited participants to address and challenge these concerns from the perspective of their practice, guided by the following intertwined subthemes:
Theme 1. Artistic Practices
What is the role of photographic art in the present media environment? How is the intimacy of singular imaging practices possible within contemporary visual abundance? How can artistic research contribute? Is the task of the artist to describe and understand or to engage? What documentary strategies and imaginary fictions have become most pressing?
Theme 2. Technologies & Cultures
The track "Technologies and Cultures" is particularly interested in the intertwinement between visual and material photographic practices. Exemplary questions include, but are not limited to: How are our understandings of photographic images altered by technologies, both "old" and "new"? What kinds of cultural effects do specific technologies have, and how in turn do particular cultures form what photographic technologies are understood to be? What is the relation of photographic technologies to various ecological concerns, to issues of privacy, or understandings of ethical use?
Theme 3. Critical Approaches
What does the concept of "critical" mean (or potentially mean) in the context of contemporary photography? What kinds of current critical photographic practices do we find in the realms of gender, migration, climate change, politics and media? How has the problem of critical practices been articulated in social and political theories of photography? How do the production of visual knowledge and critical practices relate to each other in the "post-truth" era?
Keynotes 2022
Helsinki Photomedia 2022 is organised by Aalto University School of Arts, Design and Architecture in cooperation with three other Finnish Universities: University of Tampere, School of Communication, Media and Theatre (CMT); University of the Arts Helsinki; Academy of Fine Arts; and University of Jyväskylä. All the presentation abstracts available here